In the News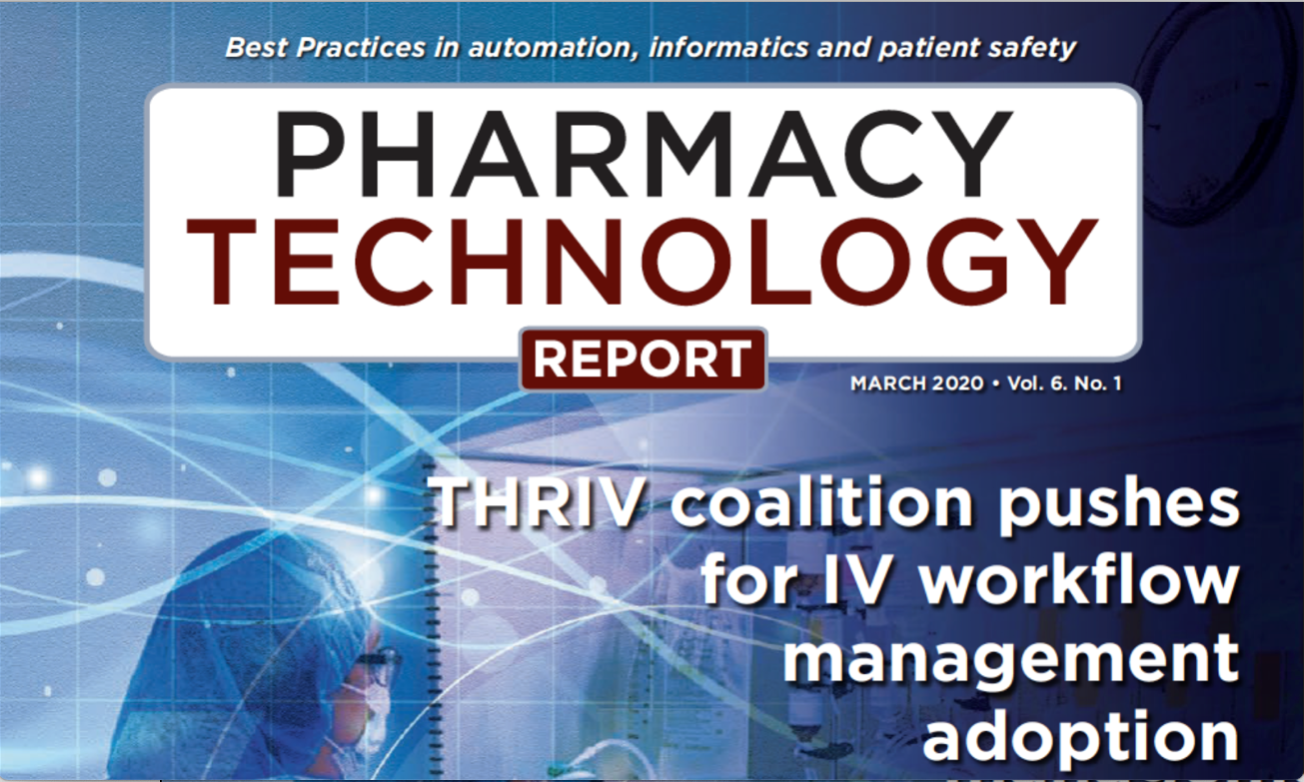 March 12, 2020
Push Is On to Make IV-WMS Universal
From Pharmacy Technology Report, March 12, 2020
In December 2014, a 65-year-old woman was at home in Bend, Ore., recovering from brain surgery she had recently undergone in Seattle. After experiencing bouts of anxiety, she went to the ER at a local hospital, where the doctor ordered IV administration of fosphenytoin, a low-risk antiseizure medication that is also frequently used to treat anxiety. The order was sent to the pharmacy, where it was reviewed and sent to the cleanroom. The bag was prepared, labeled with a barcode, and checked by the pharmacist. It was then delivered to the ED, where the attending clinician scanned the patient's wristband and the IV bag; they matched. The bag was hung, a drip was started, and 30 minutes later, Loretta McPherson was dead.
Forensic analysis revealed that instead of fosphenytoin, the pharmacy technician had accidentally pulled the paralytic agent rocuronium.
A few hours' drive away, in Bellevue, Wash., medication safety technology expert Mark Neuenschwander read the headline about McPherson's death with horror. For the past two decades, he had been a passionate advocate of bedside barcoding in hospitals, helping to lead the push for the FDA to require all immediate drug packages to be labeled with scannable barcodes. However, a scannable barcode could not save McPherson. "I realized that bedside barcoding can neither detect nor intercept preparation errors in the pharmacy," Mr. Neuenschwander said.
This medication error inspired Mr. Neuenschwander to organize a new movement aimed at placing IV workflow management systems (IV-WMS) in all health care facilities where medications are compounded. After several years of organizational effort, the THRIV Coalition for IV Accuracy was officially formed in 2019, with its website (www.thrivcoalition.org) launched at the ASHP 2019 Midyear Clinical meeting in Las Vegas.
"We must use proven technologies that make it harder for pharmacy technicians to mix things wrong, and easier to mix them correctly, which don't allow preparers to proceed to the next item on an order's checklist until the previous item is fulfilled correctly," Mr. Neuenschwander said. Although the coalition advocates for health care institutions to voluntarily adopt IV-WMS, THRIV also is pushing for standards, compliance, and accrediting bodies to not only accept workflow management systems that meet or exceed criteria outlined in "THRIV's Technology Checklist" but also to require health care providers to use them when preparing IVs.
Nearly 1 in 10 Preparations Incorrect
How often do IV preparation errors occur? An observational study of accuracy in compounding IV formulations at five hospitals found a 9% error rate (Am J Health Syst Pharm 1997;54[8]:904-912), most involving wrong ingredients and/or volumes. "Imagine if Amazon fulfilled one in every 10 packages incorrectly, or Delta lost one of every 10 bags checked," Mr. Neuenschwander said. "And nobody's ever been killed by a late bag or getting the wrong package."
A more recent systematic review of published evidence on IV admixture preparation errors found a substantial variation in error types and reported rates: wrong drug (approximately 0%-4.7%), wrong diluent solution (0%-49.0%), wrong label (0%-99%), wrong dose (0%-32.6%), wrong concentration (0.3%-88.6%), wrong diluent volume (0.06%-49%), and inadequate aseptic technique (0%-92.7%) (BMJ Open 2017;7:e015912).
Research consistently suggests that IV-WMS reduce errors. For example, evaluation of such a system at Boston Children's Hospital found that 23% of the errors detected would not have been identified by the pharmacy's previous practices (Am J Health Syst Pharm 2014;71[15]:1311-1317).
Meanwhile, only about 20% to 25% of hospitals report that they are now using IV-WMS. "Many of those either have systems that don't meet THRIV's minimum criteria or they are using the systems to prepare a low percentage of their IV medications," Mr. Neuenschwander said. "In fact, the hospital in Bend had IV workflow technology in their pharmacy which faithfully intercepted errors, but had to suspend its use due to upgrading its hospital information system. The adoption rate is low and the utilization is shallow. THRIV's goal is to get to the point where these safety systems are expected of hospitals by regulatory and accrediting bodies. We don't believe we will get near universal adoption until [these systems] are required."
According to ASHP's 2019 hospital survey, cost is the No. 1 barrier to IV workflow management adoption. "This I do not understand, because IV-WMS are relatively inexpensive," Mr. Neuenschwander said. "A 200-bed hospital could easily spend a million dollars or more to comply with USP's Chapter <797> sterility requirements, while IV workflow technologies that meet or exceed THRIV's standards could be obtained for considerably less than $100,000."
The survey cited lack of space as the second barrier. "Perhaps respondents were thinking of large robotic workflow devices," said Mr. Neuenschwander, but he noted that small, semiautomated tabletop components (tablets, scanners, camera, scales) can achieve all the same safety goals as large robotic systems.
Also, many pharmacists experience "sales fatigue" from requesting funding from institutional leadership to acquire these systems, he conceded. "I have not yet met a pharmacist who does not believe in IV workflow technology. They know it's the right thing, but they are weary from having their repeated requests routinely turned down. THRIV seeks to motivate, encourage and equip pharmacists to not let up, to influence their hospitals to voluntarily implement these systems now, and not wait until they are mandatory."
The Institute for Safe Medication Practices (ISMP) is an organizational member of THRIV. "Barcode verification and gravimetrics coupled with real-time alerts created by workflow management systems can detect and prevent many potentially serious medication errors that would not have been recognized with traditional verification methods," said Michael R. Cohen, RPh, the president of ISMP. "We strongly support their use, but ISMP doesn't have any enforcement power. We need an organization that has the force of law to take this up and [mandate compliance].'
"Realistically, it will take time to make these standards mandatory," Mr. Cohen said. "But IV workflow errors are among the most dangerous errors we see in hospitals. In the meantime, I would really hope that people would go to the THRIV website, download the guidelines, and make sure they are compliant."
Search THRIV News Archive
Latest News
Together we can increase IV accuracy and prevent harm, including death, by promoting the universal adoption + faithful utilization of workflow management safety systems.